FLY A JET Flight Simulator

09 359 9000
The Flight Simulator is based on a modern Jet Airliner. It is designed specifically as an entry level training device with capability for deployment as a retail experience simulator. It provides a superb environment that replicates a modern twin jet environment.
View Flight Simulator Packages
Key Features:
Fully enclosed cockpit
Full functioning avionics and computers – FMCs, autopilots and auto-throttles
180° external visuals that accurately represent the terrain to photo realistic quality
24,000 airports to fly in and out of
Countless flight tracks and routes can be flown anywhere in the world
The ability to fly around famous landmarks from London Bridge to the Sydney Opera House
Seats up to three people (as well as the simulator instructor) on the flight deck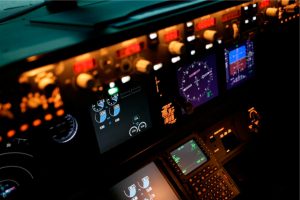 Regulatory Qualification Level:
NZ CAA (New Zealand) The device has limited instrument rating approvals
CASA (Australia) The device has limited instrument rating approvals
Other Features:
Fixed base glass synthetic cockpit
Includes Instructor console work station
Instructor Station uses a Windows(R) environment
High-fidelity 180 night/day visuals accurately representing airports, weather and terrain
Smiths style Flight Management System (FMC), Primary Flight Display (PFD), Navigation Display (ND) and Engine Display Units
Full functioning flight deck systems, including MCP, FMC/CDU, AFDS, GPWS
Upper Display Unit (Upper DU) displays include: N1 Indicators, EGT Indicators, Fuel Flow Indicators, Fuel Quantity Indicators, Fuel Alert Indicators and Crew Alert
Lower Display Unit (Lower DU) displays include: N2 Indicators, Fuel Flow Indicators, Oil Pressure Indicators, Oil Temperature Indicators, Oil Quantity Indicators and Engine Vibration Indicators
The visual system is capable of rendering: day, night, dawn and dusk visuals, selectable special effects, fog, haze, sun glare. Airport lighting detail includes taxiway markings, runway edge, runway centreline and taxiway lighting, runway heading indicators, touchdown zone, threshold markings, approach guidance lighting and approach lead-in lighting.
The throttle console has the following features: Motorised Thrust Levers, Thrust Reverse Levers, Flap Lever with Go Around Gates, Motorised Speed Brake Lever, TO/GA Switch, A/T Disconnect Switches, Moving Stabiliser Trim Wheels and Pointers, Fuel Control Switches and Park Brake.
Note: Some features may differ depending on location.
The FLY A JET Experience simulator is known as the PS3 and is manufactured in Christchurch, New Zealand. It is designed as an authentic aviation experience device.