Flight Simulator Experience Videos

09 359 9000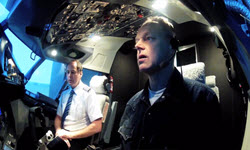 Actor and presenter Bruce Hopkins takes command of FLY A JET's Boeing 737 flight simulator for the first time.
FLY A JET's simulator is CAA approved as a pilot training simulator. The cockpit layout is an exact duplicate of a real Boeing 737 jetliner. Despite the simulator's advanced systems and capabilities, you don't need any previous experience! We will adapt the package to suit all levels and there will be an experienced pilot to assist you throughout!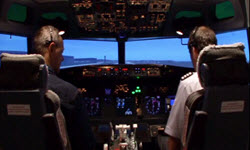 Presenter Bruce Hopkins pilots FLY A JET's 737 simulator for a complete flight from Whenuapai to Auckland Airport. This includes a Sky Tower fly past.
Join Bruce and FLY A JET's Chief Pilot – Peter Cross, on this 30 minute flight.
This video is a complete recording of the simulated flight, from engine start up – to shut down in a hanger at Auckland Airport, providing an excellent overview of the FLY A JET experience.
FLY A JET Instructors Len and Ali fly takeoff from Barcelona, Spain and fly the SID (Standard Instrument Departure) out over the Mediterranean Sea.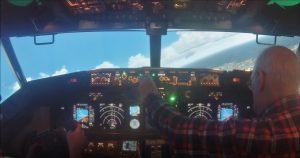 This demonstrates a typical two-crew flying scenario, with both FLY A JET Instructors using correct procedures, calls and terminology.
Barcelona is one of the many destinations that you can choose to fly around on a City/World/Family or Ultimate Flight.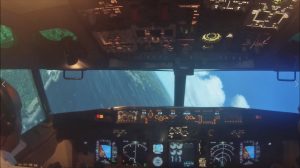 FLY A JET Instructor Ali flies a demonstration run of the Auckland Challenge. This challenge is very popular for Corporate Functions as everyone can compete against one and other.