Pilot Airline Preparation

09 359 9000
Be the best you can be! Prepare for your Airline assessment at FLY A JET in our B737-800 Next Generation Flight Simulator.
Our Airline Prep packages are designed to assist pilots prepare for airline simulator assessments. Our 'state of the art', CAA Approved Flight Simulator based on the Boeing 737-800 and Prosim737 accurate flight model is very helpful when preparing for your airline assessment. Getting into the big airlines is competitive. Even just one session can make a big difference to improving your instrument scan and widening your situational awareness. It is also beneficial for increasing your confidence.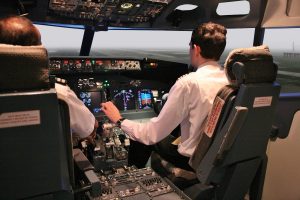 FLY A JET have qualified Instructors who can walk you through airline-specific simulator assessment profiles and assist with the techniques necessary to prepare you for that important career move. We are familiar with the following airline simulator assessment profiles. Air New Zealand (both Link & Jet), Cathay Pacific, Emirates, JetConnect, JetStar (regional & mainline), Qantas (mainline), Ryanair and Virgin Australia.
Prices start at $295 for the first hour, $250 for the second hour and subsequent hours or we can design multi hour packages from $180 per hour. Please note that the minimum session is one hour and that these cannot be shared between multiple pilots.
Contact us to talk to one of our staff for a cost-effective way to get the competitive advantage in your Airline Interview.