Jet Training System

09 359 9000
Discover the most cost effective high-detail flight training solutions delivering high quality results
Our simulator delivers a superior learning environment by providing pilots the opportunity to train in a fully enclosed cockpit, supported by accurate visual graphics – thus reducing transition times and significantly lowering training costs.
Our simulator is modelled on a modern twin jet aircraft, replicating the cockpit of a Boeing 737NG, with functional flight deck systems and authentic representation of airports, weather and terrain. Our product guarantees quality outcomes for pilots and training organisations.
Intensive Training at Low Cost
We have designed our pilot courses to introduce jet flying and the glass cockpit environment into training modules at an early stage; thus delivering intensive lessons which cannot be achieved on basic flat panel training devices. This exposure to a genuine cockpit with a precise Flight Management System allows pilots to master complex programmes in a cost-effective manner.
Full Flight Deck Environment for Targeted:
Competency Based Training
Preparation in our simulator ensures that pilots learn effective multi-crew coordination and communication skills. Effective training on all flight manoeuvres with accurate and responsive indicators guarantees that pilots are exposed to a myriad of challenges, and enables them to focus on specific training needs.
Reduce FFS Training Times
Pilots using the FLY A JET simulator are potentially better prepared for entering Full Flight Simulator (FFS) than those making the transition directly from flat panel training systems. This will significantly reduce the time each pilot is required to spend in costly FFS training units.
Increased Proficiency, Productivity and Profitability
The FLY A JET simulator device can deliver significant improvements in the quality of learning, which will ultimately result in more capable pilots. To be able to achieve outcome in a cost-effective and timely manner ensures that considering FLY A JET FTD for inclusion in any training regime is a wise decision.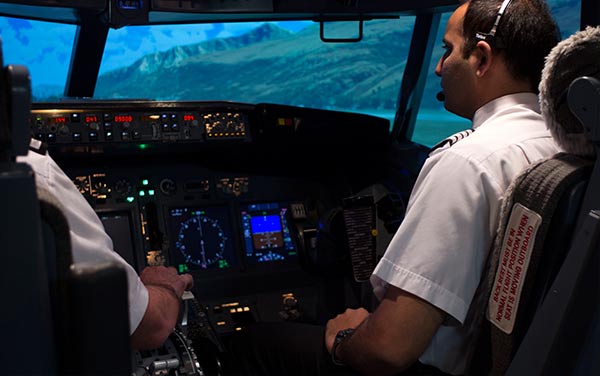 The Simulator
The simulator is based on the Boeing 737NG. It is designed specifically as an entry level 3 training device with capability for deployment as a retail experience simulator. It provides a superb environment that replicates a modern twin jet environment.
Key Features:
Fully enclosed cockpit
Full functioning avionics and computers – FMCs, autopilots and auto-throttles
180° external visuals that accurately represent the terrain to photo realistic quality
24,000 airports to fly in and out of
Countless flight tracks and routes can be flown anywhere in the world
The ability to fly around any landmark from London Bridge to the Sydney Opera House
Seats up to three people (as well as the simulator instructor) on the flight deck
Other Features:
Fixed base glass synthetic cockpit Includes Instructor console work station
Instructor Station uses a Windows(R) environment
High-fidelity 180 night/day visuals accurately representing airports, weather and terrain
Smiths style Flight Management System (FMC), Boeing style Primary
Flight Display (PFD), Navigation Display (ND) and Engine Display Units
Full functioning flight deck systems, including MCP, FMC/CDU, AFDS,
GPWS
Upper Display Unit (Upper DU) displays include: N1 Indicators, EGT
Indicators, Fuel Flow Indicators, Fuel Quantity Indicators, Fuel Alert
Indicators and Crew Alert, Lower Display Unit (Lower DU) displays include: N2 Indicators, Fuel Flow Indicators, Oil Pressure Indicators, Oil Temperature Indicators, Oil Quantity Indicators and Engine Vibration Indicators
The visual system is capable of rendering: day, night, dawn and dusk visuals, selectable special effects, fog, haze, sun glare. Airport lighting detail includes taxiway markings, runway edge, runway centreline and taxiway lighting, runway heading indicators, touchdown zone, threshold markings, approach guidance lighting and approach lead-in lighting.
The throttle console has the following features: Motorised Thrust Levers, Thrust Reverse Levers, Flap Lever with Go Around Gates, Motorised Speed Brake Lever, TO/GA Switch, A/T Disconnect Switches, Moving Stabiliser, Trim Wheels and Pointers, Fuel Control Switches and Park Brake.
Regulatory Qualification Level:
New Zealand Civil Aviation Authority (NZ CAA)
The device has CAA instrument rating approvals
The FLY A JET simulator is known as the PS3 and is manufactured in Christchurch, New Zealand. It is designed as an authentic aviation device.